We Did This Together: How Two Sisters' Experiences Led Them to Pursue Nursing
People

| 08 May 2023 | 3 min read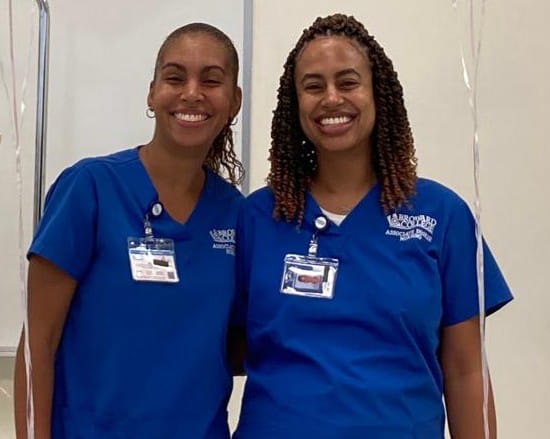 Sisters Karin Jordan, 38, and Marina Bertrand, 40, have been in-sync since birth. They are not exactly twins, but they find themselves presented with the question often enough. From birth to now, the sisters have faced the ups and downs of life, motherhood, and being second-time students as a team. Inspired by their own experiences with the health care field—one of the sisters surviving a major accident and the other giving birth before getting to the hospital—fueled their passion for helping others. Karin and Marina set their sights on nursing. This month, the sisters will walk across the stage and receive Associate of Science Degrees in Nursing (ASN) from Broward College.
Born in South Florida, Karin and Marina were raised by a stay-at-home mother and a father who was a music teacher. After high school, the girls headed to the University of Florida, where they earned bachelor's degrees in Psychology and Family and Youth Sciences. Once they received their degrees, they moved back to South Florida.
Karin's Journey
After moving back to South Florida, Karin, the younger of the two, got a job as a lab technician in a Broward College Science Laboratory. After a few years of working full-time at the lab, Karin realized she was passionate about the hands-on aspect of patient care. She decided to enroll in the part-time ASN degree at Broward College and realized that was exactly what she was looking for.
"Working full time, going to school part-time, all while having a family, it can get discouraging," said Karin. "I think I realized that time was going to go by whether you were doing what you wanted to do or not. You can't stop time. So, I couldn't let that stop me."
While in the Nursing program, Karin had two kids, Xavier, two, and Jade, six months. Her incredibly unique experiences with childbirth allowed Karin to appreciate the professionals in the health care field on another level entirely.
As a student in the ASN program, Karin was able to get hands-on experience in several of the hospital rotations. Her favorite–Mother/Baby and Labor and Delivery.
"My OBGYN professor, Kathleen Clerie, really inspired me," said Karin. "She was an amazing professor and so passionate about working with the moms and babies. I'm so grateful to have crossed paths with her."
Marina's Journey
When Marina moved back to South Florida, she followed her younger sister's footprints and started working as a lab technician at Broward College. While working at the lab, Marina took a few non-degree-seeking classes at the College to get a taste of school again.
"Once I started considering the ASN program at Broward College, I was skeptical," said Marina. "Really, because it had been such a long time since I had been a student, and I thought too much time had passed. I wondered if I could be a student again after all these years."
Before Marina got to College, she faced an unexpected health problem that caused her to reprioritize her time and energy and focus on her own health. While Marina notes that this experience was challenging to navigate, she always had her sister by her side. It also gave her an in-depth appreciation and understanding of the doctors and nurses who helped her. 
As a student in the ASN program, Marina was also able to get hands-on experience in several of the hospital rotations. Her favorite– is the Emergency Department. 
As a mom to Adonias, six, a full-time Broward College science lab technician, and a part-time student, Marina has also had her hands full for the last few years.
After All This Time
Passion and their personal experiences with health care have led the sisters to where they are today. Together, ready to conquer anything.
Karin is excited to graduate and use what she learned at Broward College to work with mothers and babies. After her positive experiences in both units, Marina finds herself torn between helping those in the Emergency Department and Labor and Delivery.
"For anyone that might not be the traditional age of a college student, but is considering going back to school, remember that taking your time isn't bad or wrong," said Marina. "For both of us, it's been a long journey. Sleepless nights and a lot of sacrifices, but I wouldn't trade it for anything."
"At the end of the day, I love that we were able to do all of this together," said Marina. "From elementary school to the University of Florida, to Broward College. I did it with my sister."
Inspired by the sisters' story? Are you passionate about helping others? Consider a career in nursing. Learn more about the Associate of Science in Nursing from Broward College.
Commencement
Associate Degree
Bachelor Degree
Career
In-demand training
Broward College Students