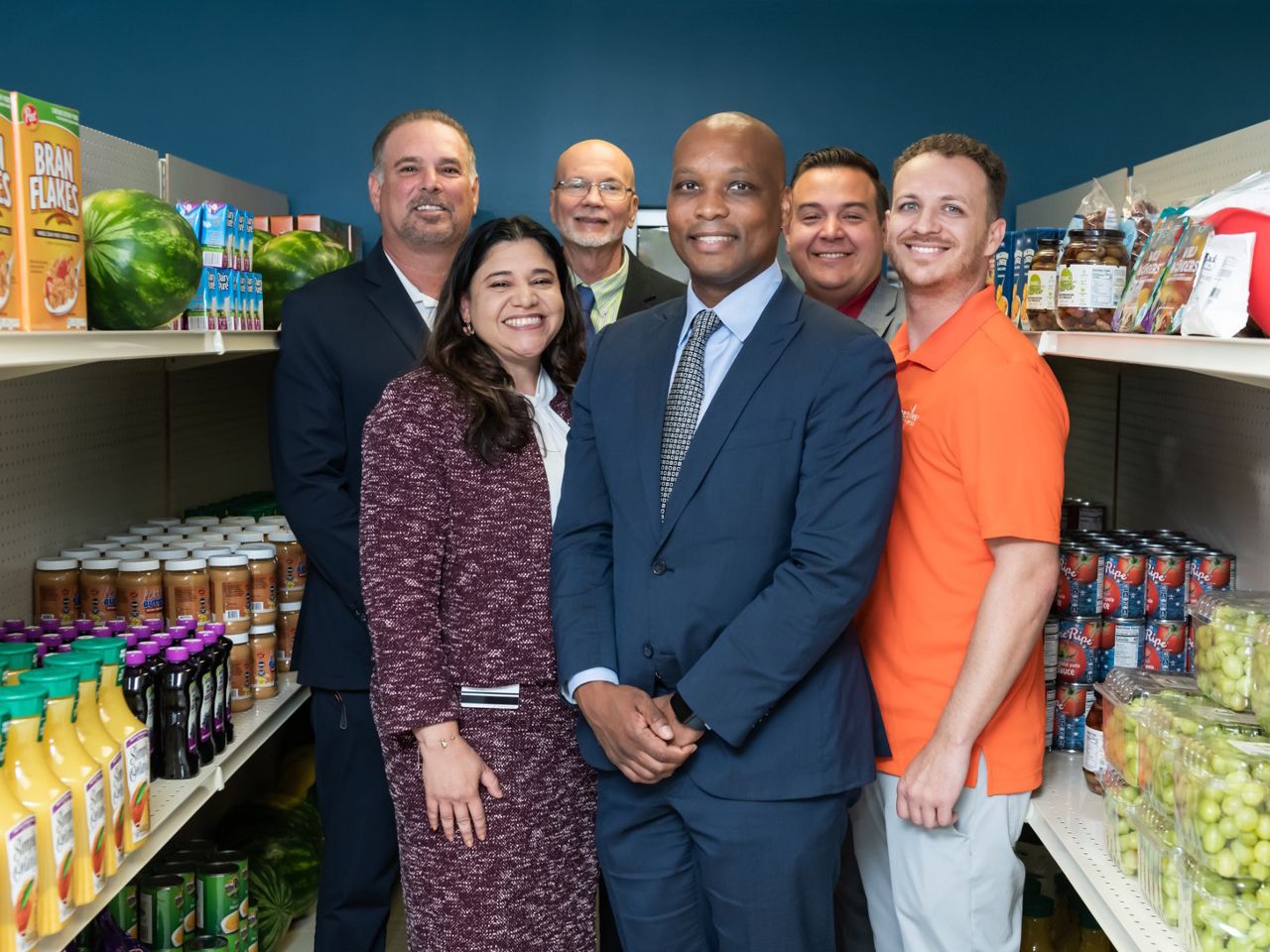 Broward College Takes Another Step Towards Addressing Food Insecurity Among its Students
Press Releases

| 12 May 2023 | 2 min read
FORT LAUDERDALE, FLA. (May 10, 2023) – Broward College has opened a Seahawk Marketplace (food pantry) on its Judson A. Samuels South Campus Building 68 Room 101 to help students facing food insecurity. On the pantry's first opening day it served 65 students. This is the second Seahawk Marketplace opened by the College since 2021. This is part of the College's strategic response to barriers faced by many students as they pursue post-secondary education. According to a 2020 survey at Broward College, 28 percent of students indicated that hunger, or not having enough food, impacted their academic performance. In 2021, the College, working with partners put in place plans to open on-campus food pantries on each of all its main campuses, launching the first at the A. Hugh Adams Central.
"This academic year alone, the Broward College A. Hugh Adams Central Campus Seahawk Marketplace has served over 1,000 unique students, has had more than 6,000 student visits, and has assisted over 15,000 people between students and their families," said Esmeralda Sweeney, associate vice president, Student Success at Broward College. "It is our commitment to help those who have trusted us with their academic dreams to overcome any barrier to their pursuit of a post-secondary education."
The Seahawk Marketplace is an on-campus pantry that offers students and their families an immediate solution to hunger and basic necessities by giving them access to perishable items, such as fruits, vegetables, dairy, and meats, as well as nonperishable food items and hygiene products, free of cost. The staff and volunteers that work at the pantry also provide the students with guidance all while leveraging community programs and offering educational programs on the value of nutrition and healthy lifestyle choices.
"Food insecurity is a major deterrent to academic success and should not be underestimated. Academic achievement is challenging to maintain as a priority for students chasing survival every day," said Gregory Adam Haile, J.D., Broward College president. "By ensuring students have access to the food they need to succeed, we are helping them to transition to better lives for themselves, their families, and our community."
The Seahawk Marketplace is possible thanks to the generosity of donors and partners: The Florida Blue Foundation, Feeding South Florida, LifeNet4Families, Holy Cross Hospital, Publix, CareMax, Broward County Public Schools, the American Heart Association, Walmart, The Batchelor Foundation, and others.
For more information on the pantry, please click here. For photos from the Judson A. Samuels South Campus Seahawk Marketplace opening, please click here.
- B.C. -
ABOUT BROWARD COLLEGE:
Serving approximately 56,000 students annually, Broward College provides residents with certificate programs, two-year university-transfer degrees, two-year career degrees, and baccalaureate degrees in selected programs. The mission of the College is to provide high-quality educational programs and services that are affordable and accessible to a diverse community of learners. For more information, visit  www.broward.edu.
Community Partnership
Broward College Students
Broward College Leadership