VICTORIA® S2200 Mannequin Comes to Campus: Meet the Broward College Health Sciences Simulation Center's Latest Addition
News

| 11 May 2023 | 3 min read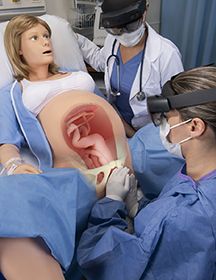 When the Broward College Health Sciences Simulation Center wanted to level up their obstetrical training for nursing students, they turned to the one woman they knew could handle the job: VICTORIA.
That would be VICTORIA® S2200, to be exact. A medical mannequin designed by the Miami-based medical training company Gaumard Scientific, VICTORIA, is the latest addition to the Broward College SIM Center roster. A top-of-the-line, totally comprehensive birthing simulator, VICTORIA comes equipped with a bevy of tools and software services designed to help improve patient safety in women's health through education and training. As part of the Broward College SIM Center mannequin lineup, she has already helped to facilitate teamwork and deepen critical thinking skills in learners of all levels.
A State of the Art Environment
The Broward College Health Sciences Simulation Center (HSSC) is a state-of-the-art educational facility that models a hospital setting. Designed to provide students with a safe learning environment where they transfer their understanding of theory into hands-on practice, the HSSC offers the opportunity for students to practice in realistic simulations the development of decision-making skills, the reduction of errors, and the improvement of communication and teamwork.
Managed by Dr. Lilia Chavarria, district director of Broward College, the Simulation Center has already provided aspiring healthcare students with more than 80,000 simulations on various medical training devices and mannequins. But when the center received its VICTORIA S2200 medical training mannequin in September of 2022, Dr. Chavarria knew they had acquired the gold standard of obstetric training.
"From early pregnancy complications, high-risk deliveries, and postpartum emergencies to non-gravid scenarios for general nursing care, VICTORIA simulates a full range of obstetrical situations," said Dr. Chavarria. "More than a childbirth simulator, VICTORIA is a complete simulation solution developed from decades of obstetrical experience. She is a comprehensive package of tools and support designed to help improve patient safety in women's health through education and training."
Just don't call her a "dummy."
VICTORIA Leads the Way
After all, VICTORIA is much more than a training mannequin. Engineers at Gaumard Scientific have equipped her with the latest medical training technology, including interactive eyes and automatic visual object tracking; a fully programmable airway; and true-to-life shoulder dystocia, breech, and C-section deliveries. VICTORIA even births a lifelike, full-term baby featuring programmable vitals for Apgar scoring. Students can also tether VICTORIA to monitoring equipment such as an EKG, capnography, defibrillator, and pulse oximeter for even more realistic training.
What's more, VICTORIA's mixed reality feature uses holographic visualization to allow students to see inside VICTORIA and observe the physiological process of birth.
Fulfilling a Need
She couldn't have arrived at a better time. It has become increasingly clear that health care training is more critical now than ever. Per a report by WLRN, the South Florida community is facing an acute nursing shortage, with the Florida Hospital Association predicting a shortfall of 59,100 nurses by 2035. Fortunately, Broward College has stepped up to provide the healthcare workers of tomorrow and train them with the best tools available, including VICTORIA.
Dr. Chavarria said these students were ready and eager to meet the challenge of adapting to new technology.
"The transition has been seamless," she said. "We have excellent simulation specialists at the forefront of the latest technology and genuinely want to work with our students. The learners and the staff absolutely love the experience."
VICTORIA, so it seems, has found a home at Broward College. For now, she will continue to help Broward College nursing students hone their obstetric skills before taking their training into the real world, to the benefit of birthing patients across South Florida. VICTORIA, quite simply, is a lifesaver. 
"The nursing students love the technology, which fits well with the younger generation of students," said Dr. Chavarria. "This is by far the World's Most Lifelike Childbirth Simulator."  
Read more about Broward College's state of the art simulation offerings at the Health Sciences Simulation Center website. Interested in a career as a nursing professional? Visit the Associate of Science in Nursing program page to learn more.
Career
Training
Broward College Students
technology