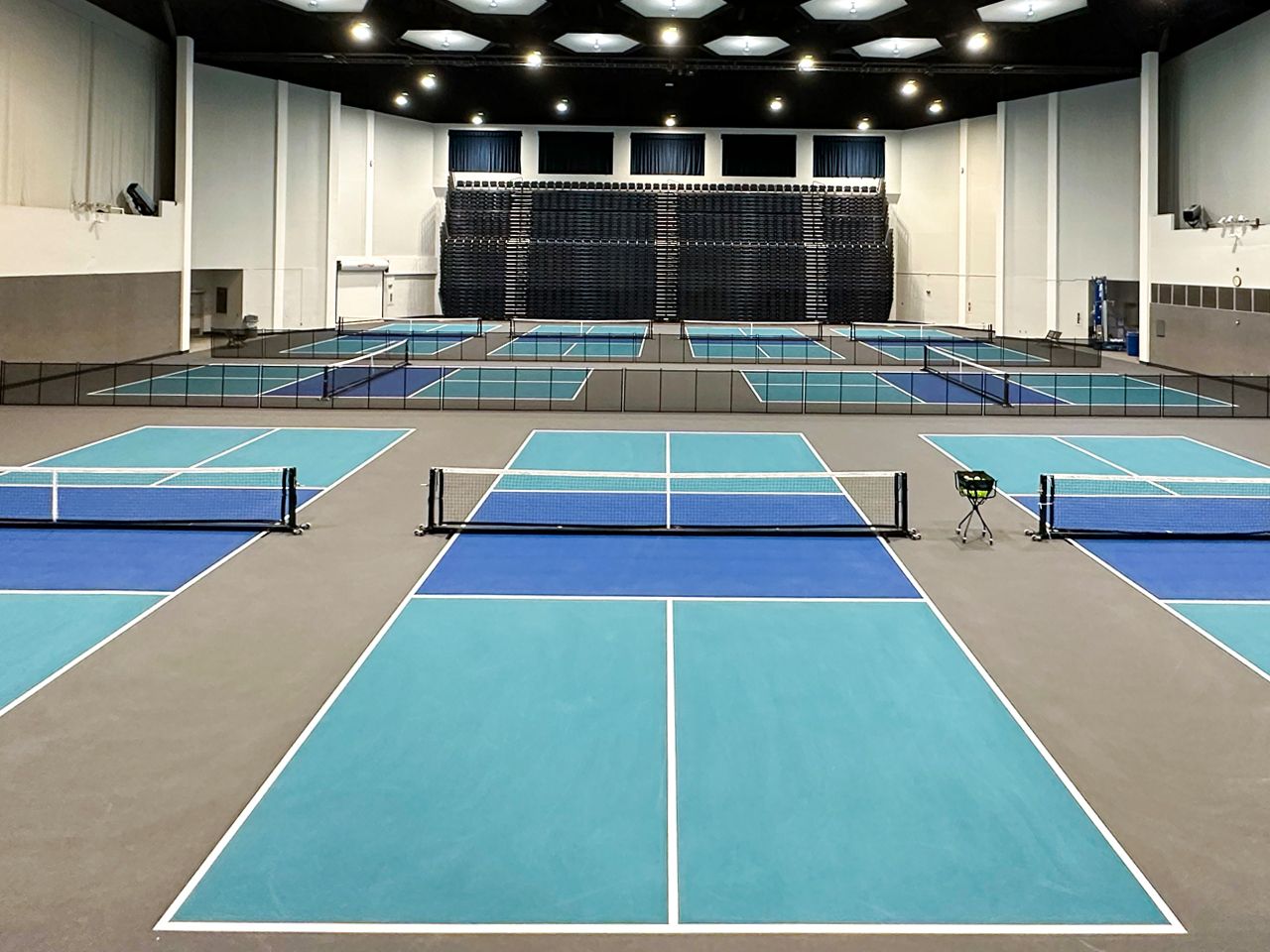 New Partnership Brings Pickleball to Broward College North Campus
Press Releases

| 13 June 2023 | 2 min read
Former basketball arena renovated to house nine pickleball courts.
FORT LAUDERDALE, FLA. (June 13, 2023) – In a move to leverage underused space and generate income, Broward College has partnered with Diadem Sports, to transform the Omni Auditorium on its North Campus in Coconut Creek to a state-of-the-art pickleball facility. This facility will expand student support while serving the community. Diadem Sports is a leader in the pickleball and tennis industry. The space will house nine tournament-level courts and offer programming for all skill levels.
"This public private partnership is one more example of how Broward College embraces opportunities to enhance the lives of our students, faculty, staff, and the broader community," said Broward College President Gregory Adam Haile, J.D.  "Pickleball has become a tremendously popular sport and we are happy to make it accessible to players at every level, within the College and beyond."
Pickleball, a combination of tennis, badminton, and squash, has grown in popularity in recent years. According to the Sports and Fitness Industry Association, participation in the sport has grown by 158% over the last three years.
Officially open to the public on June 17, 2023, with a ribbon cutting at 12 p.m., the pickleball arena will have nine courts to accommodate 54 players at once. The facility will also feature stadium height ceilings for no lob-restrictions, arena style lighting for traditional visibility, on-site food and beverage options, and merchandise stores. The programs provided at the facility will include private instruction, group play, themed nights, tournaments by skill level, and more.
Shannon Schell, Diadem's Project Executive of this facility, expressed his gratitude for the partnership with Broward College stating, "We couldn't be more appreciative of our partners over at Broward College. Without them, this facility wouldn't be possible. We look forward to a long-lasting relationship with their team."
Michael Manglardi, Co-Founder of Diadem Sports, highlighted the location of the facility in the heart of the pickleball scene in South Florida, saying, "We're a Florida-based company in the middle of one of the best pickleball communities in the world. We couldn't think of a better location for our flagship pickleball complex. This has been something we've been working on for quite some time, and we can't wait to welcome the South Florida community to the Diadem Pickleball Complex."
The facility will be open seven days a week, 7 a.m. to 10 p.m., and will offer memberships and drop-in daily rates as low as $5.
The facility also brings added benefits of job opportunities and discounted rates for students and employees. College faculty, staff, and students will receive discounted access to the pickleball courts during regular hours; dedicated free access on certain specified days and to special events; preferential notice of full or part-time employment opportunities; and exclusive membership options.
-B.C.-
ABOUT BROWARD COLLEGE:
Serving approximately 56,000 students annually, Broward College provides residents with certificate programs, two-year university-transfer degrees, two-year career degrees, and baccalaureate degrees in selected programs. The mission of the College is to provide high-quality educational programs and services that are affordable and accessible to a diverse community of learners. For more information, visit  www.broward.edu.
Sports
Community
Partnership
Broward College Employees
Broward College Students