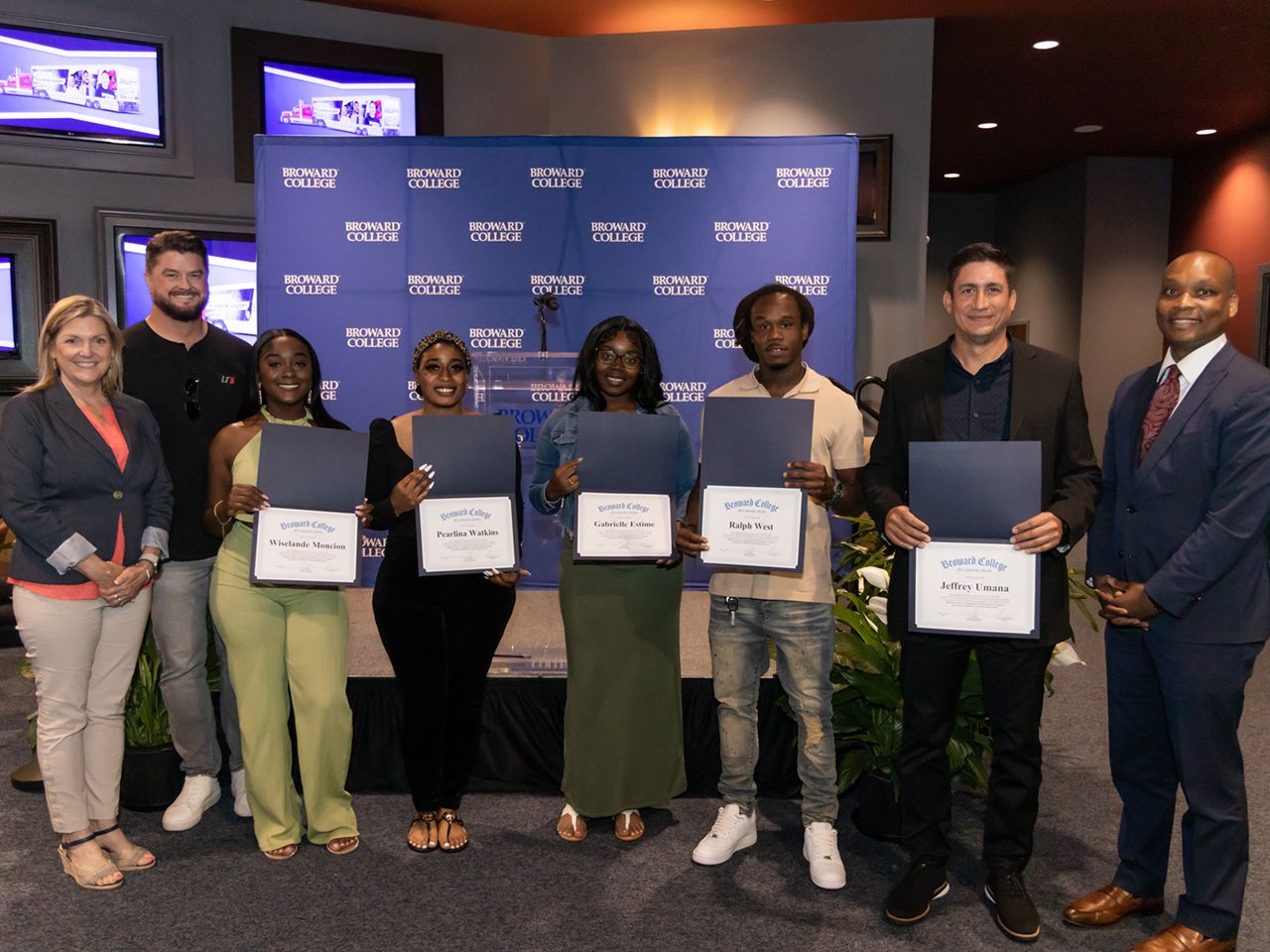 Broward College doing its part to combat the truck driver shortage in Florida
Press Releases

| 01 August 2023 | 3 min read
Partnership has licensed 50 new drivers and enrolled a total of 79 in the first three months.
 FORT LAUDERDALE, FLA. (July 31, 2023) – One year out of high school, Gabrielle Estime had her sights on earning a commercial driver's license but with a permit due to expire, she was running out of options. A partnership between Broward College and FleetForce Truck Driving School changed everything. Estime was among the first cohort of graduates in the program.
"This program is a lifesaver," said Estime. "I was running out of options on where to complete the training, especially after facing some financial setbacks." Now, Estime says inheriting her father's trucking business is not out of the question. Fellow graduate Ralph West is also following in his father's footsteps.
"I've been riding in the truck all my life since I was five up until now. So instead of riding with my dad all the time, I wanted to drive by myself," said West.
Students are enrolled in Broward College and complete the program in as little as four weeks. In three months, the program has licensed 50 students. At any given time, there are over 30 people enrolled in the program and more than 200 potential students on the waiting list.
With $2.6 million in funding from the state, Broward College partnered with FleetForce Truck Driving School to implement its CDL program. This collaboration with FleetForce exemplifies the College's ongoing commitment to providing students the economic mobility that comes with skills training and job opportunities in high-demand fields.
Estime, West, and other members of the first cohort (photo above) were recognized on May 2,2023 at a graduation celebration at FLA Live Arena. The ceremony was attended by Broward College President Gregory Haile, J.D., Dr. Mildred Coyne, senior vice president of Workforce Education and Innovation at Broward College, Tra Williams, CEO of FLeetForce Truck Driving School, Rob Stevenson, executive vice-president of the Florda Panthers, and other community and business leaders.
"Truck drivers are crucial to supply chain across the nation and therefore the cornerstone of our economy. All the partners approached this with a sense of urgency because we recognized the potential benefit for our communities and the local economy," said Dr. Mildred Coyne. "Any given week we have one class on the test track, one class preparing for the test drive, and one cohort beginning the program. The training has been a success and we have demonstrated results. It is a perfect example of Broward College's commitment to transforming students' lives."
"Every week in America, 1,200 truckers retire. America needs 1.1 million new drivers over the next 10 years, and Florida needs 25 percent of that number," said Tra Williams. "We're now the third most popular state, the fastest growing. That is about 25,000 drivers a year that this state needs. Fleetforce is the largest [driving school] in the state, and we can barely license 20 percent of that number."
The CDL program consists of classes and onsite training through a lease agreement for the training course and classroom space donations from the Florida Panthers NHL Team at FLA Live Arena. The students use an outdoor course to learn how to operate a commercial vehicle fully and safely; properly back in the vehicle; drop and hook trailers; and practice defensive driving in high traffic and dangerous areas.
The Broward College Truck Driving Program provides enrolled students with wrap-around services and support to ensure completion, as well as job placement. In collaboration with FleetForce and the Florida Trucking Association, qualified aspiring drivers will be matched with potential employers who will provide scholarships to obtain a CDL at no cost.
For high-res photos and videos from the official CDL program launch at FLA Live Arena, click here.
-BC-
ABOUT BROWARD COLLEGE:
Serving approximately 56,000 students annually, Broward College provides residents with certificate programs, two-year university-transfer degrees, two-year career degrees, and baccalaureate degrees in selected programs. The mission of the College is to provide high-quality educational programs and services that are affordable and accessible to a diverse community of learners. For more information, visit  www.broward.edu.
students
Workforce Education
Community Partnership