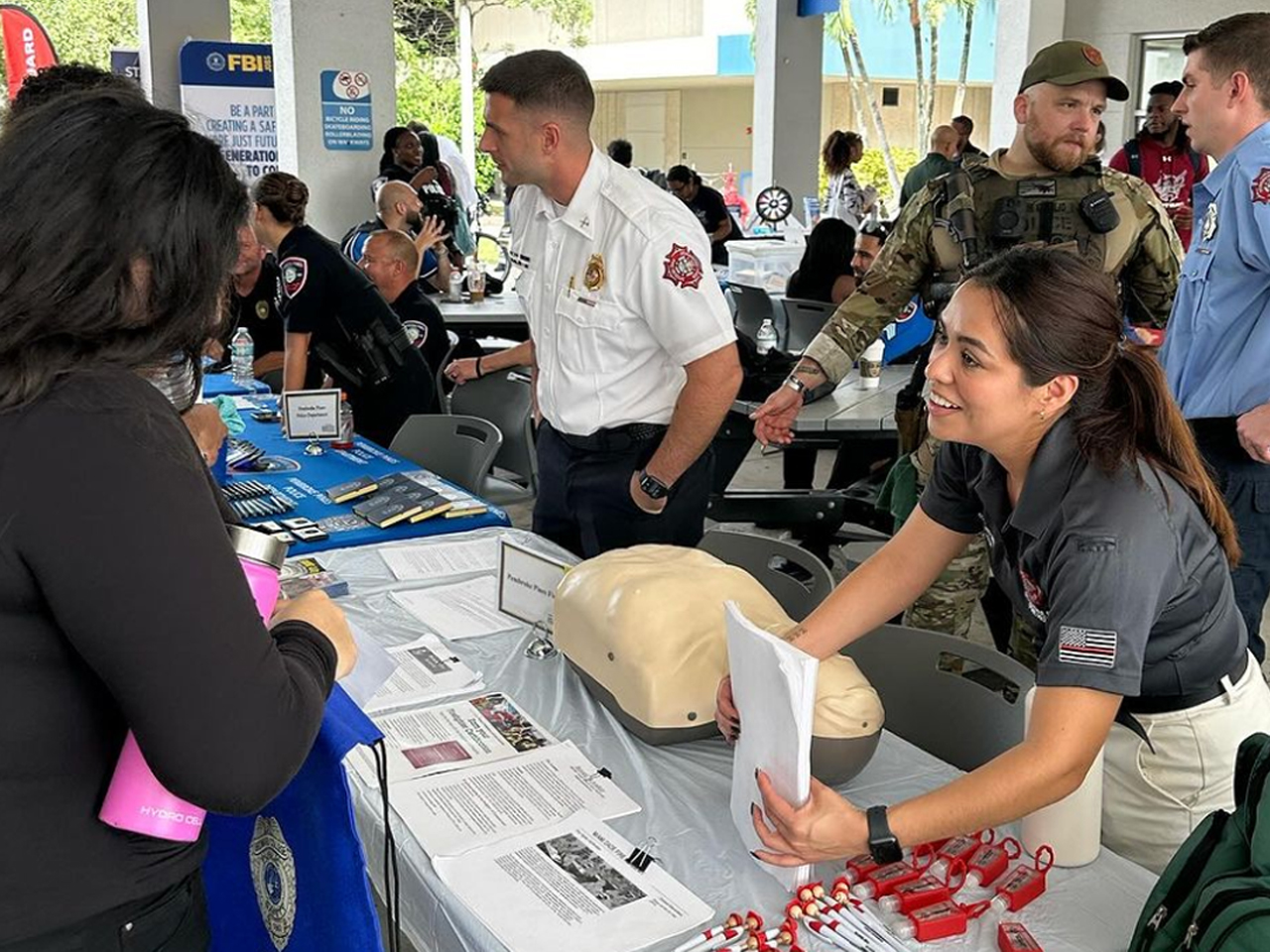 Campus Safety Days Provide Opportunity for Students to Learn About Safety and Emergency Services at Broward College
Events

| 29 September 2023 | 2 min read
Broward College has long held the safety and security of its students in the highest regard, so much so that the College has consistently ranked among the safest institutes of higher education in the nation. In 2023, for example, SafeHome.org ranked Broward College as having the lowest violent crime rate per 1,000 in the state of Florida and some of the lowest crime rates of the 500 colleges included in the study.
The College's emphasis on safety and security was on full display during the recent Campus Safety Days events, which were held across all three Broward College campuses throughout September. Sponsored by the Broward College Department of Safety, Security, and Emergency Preparedness, Campus Safety Days are designed to help students learn about common safety practices, meet with Broward College security professionals, and watch live demonstrations related to emergency management.
For the 2023 event, students had the opportunity to interact with various safety and emergency preparedness organizations from the region, including municipal fire and rescue stations, Broward Sherriff's Office, the Federal Bureau of Investigation, the U.S. Coast Guard, local Community Emergency Response Teams (CERTs), and the National Weather Service. Representatives from Broward College's Institute of Public Safety were also on hand on all three campuses to inform students about how the College can help prepare students for a career in public service.
According to Jace Smith, senior director and captain, Broward College Public Safety, more than 400 Broward College students, faculty, and staff participated in the Safety Day events, with more than 40 public and private organizations taking part in demonstrations or informational sessions.
"Broward College's Public Safety once again planned and facilitated Campus Safety Days at the North, Central, and South college main campuses," said Smith. "This event invited students, staff, and faculty to engage in information sharing, activities, and career exploration, while raising overall awareness and knowledge about public safety, wellness, and the protection of the community."
The Broward College Department of Safety, Security, and Emergency Preparedness continues to host training sessions and events throughout the year, including courses on personal safety, self-defense, and emergency response for students, faculty, and staff. The department's website is also an excellent resource for emergency management and severe weather information.
To learn more about all the department has to offer, visit the DSSEP website. Interested in a career in public safety? Find your future in public service by checking out the Broward College Institute of Public Safety website.