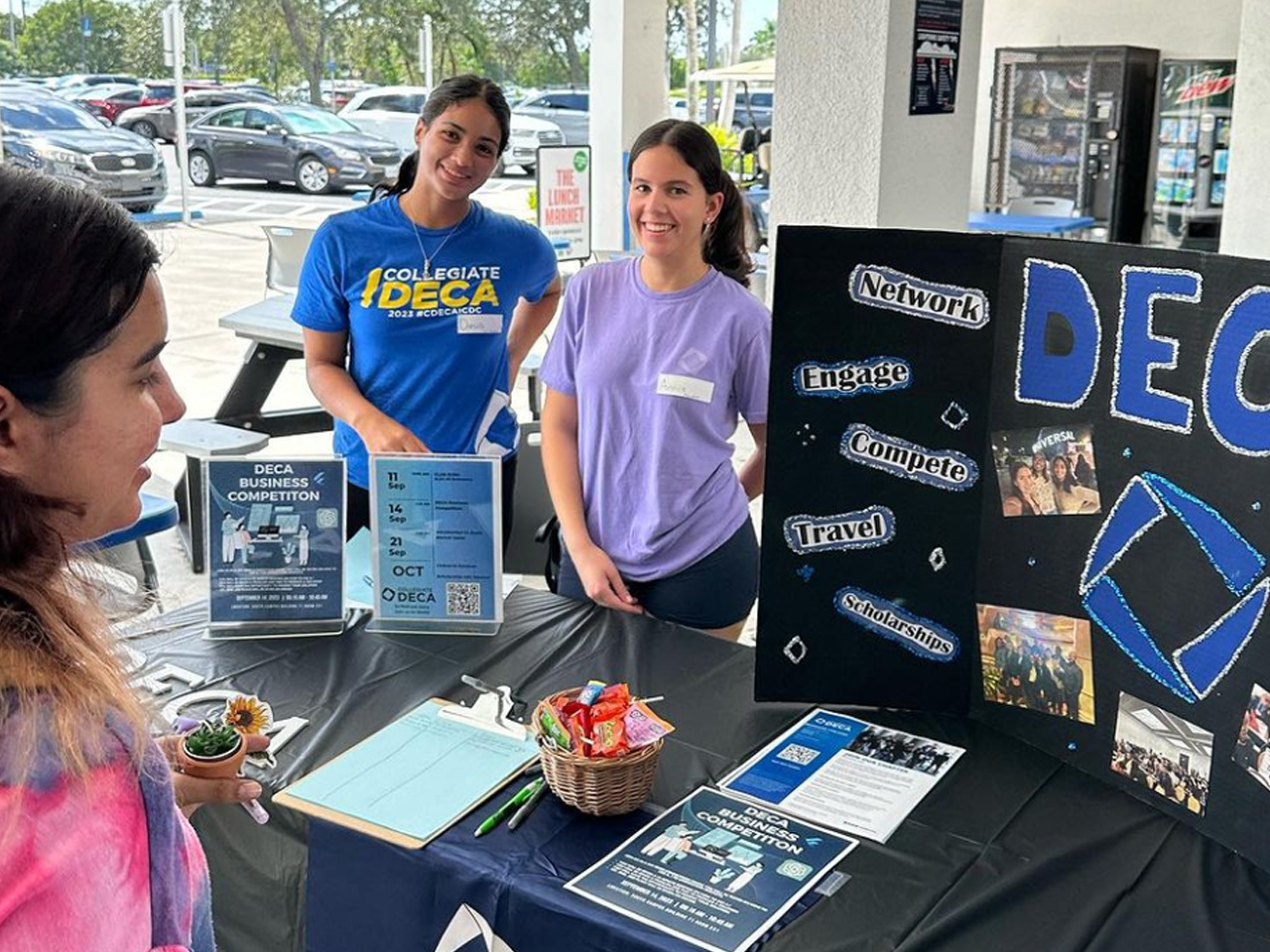 Off to a Good Start: Broward College Students Make the Most of the First Six Weeks
Events

| 26 September 2023 | 3 min read
When it comes to pursuing a college education, an old saying holds true: The secret to getting ahead is to get a head start. As students return to classes this Fall term, Broward College wants to make sure that message resonates loud and clear. The College's Welcome Weeks initiative, which provides programing designed to increase student engagement during the first weeks of the Fall semester, brings together faculty, staff, and administrators to provide guidance and support for students during those pivotal first weeks.
Studies show  the first six weeks of college can set the stage for a students' journey ahead, significantly improving retention, graduation rates, GPA, and overall mental and physical well being "Students who participate in campus events during this timeframe will have a much easier time acclimating, building connections, and cultivating a sense of belonging that fuels their personal and academic growth," said Vice President of Student Engagement Janice Stubbs.
Getting Involved
Broward College provides students with ample opportunities to get connected during the start of the Fall term. Via the Welcome Weeks initiative, students were able to participate in several events across the College's major campuses during the month of September. These programs offered a diverse range of opportunities for students to explore their interests, challenge themselves, and build lasting connections with peers.
On Tuesday, September 5, students at North Campus came together for a Welcome Back Bash featuring music, dance, and various entertaining performances, all with a focus on building a sense of community. Students at Judson A. Samuels South Campus convened on Thursday, September 7 for a Welcome Back Bash of their own on the Building 68 Breezeway, where they were encouraged to "bring a friend and enjoy food, music, and artists" to celebrate the start of classes.
Later that day, students showed their college spirit by dressing up in Broward College gear during the "Meet Your Advisor" event sponsored by Student Life on A. Hugh Adams Central Campus. Academic advisors were on hand for introductions, and students participated in spirited competitions, games, and giveaways to foster a sense of pride and camaraderie. Also that day, the North Campus Student Government Association hosted an event on the Student Life Patio where students were assisted created vision boards to help them visualize the year head.
Interim Senior Director of Student Engagement Lauren Adamo agrees that the first six weeks of college can have a profound impact on a students' overall academic experience, and encourages any new student to connect to their institution through student events. "Showing up to events and taking the step to get involved is one of the best choices you can make as a student," she said. "The connections you make have the ability to open doors and change your life."
An Extended Welcome
Throughout the next few weeks, there will be ample opportunities to engage with the College through on-campus events. Students who want to meet with advisors to learn about career services, academic advising, student outreach, welcome facilities, and campus safety can visit the Resource Fair on Central Campus on Tuesday, September 12, at 12 p.m. North Campus will be offering a Club Rush during that time as well, where students can learn more about student organizations.
All three campuses will also be hosting Certified Leader Seminars on Wednesday, September 27, at 12 p.m. for students who would like to cultivate their leadership skills. Additionally, intramural sports season begins on South Campus on Monday, October 9, offering soccer and basketball leagues that meet for friendly competition throughout the week.
As new and returning students alike settle into their learning routines this term, they can rest assured that Broward College will support them through the first six weeks of school, and well beyond. "I am very passionate about the effects of what we do in Student Life," said Senior Director Adamo.
Dr. Adamo's enthusiasm is matched by the College's faculty and staff, who together will strive to make the first six weeks a transformative and enriching experience for all students.
For even more information on Welcome Weeks events, visit the Broward College Events Calendar.
Admissions
students
Student Support