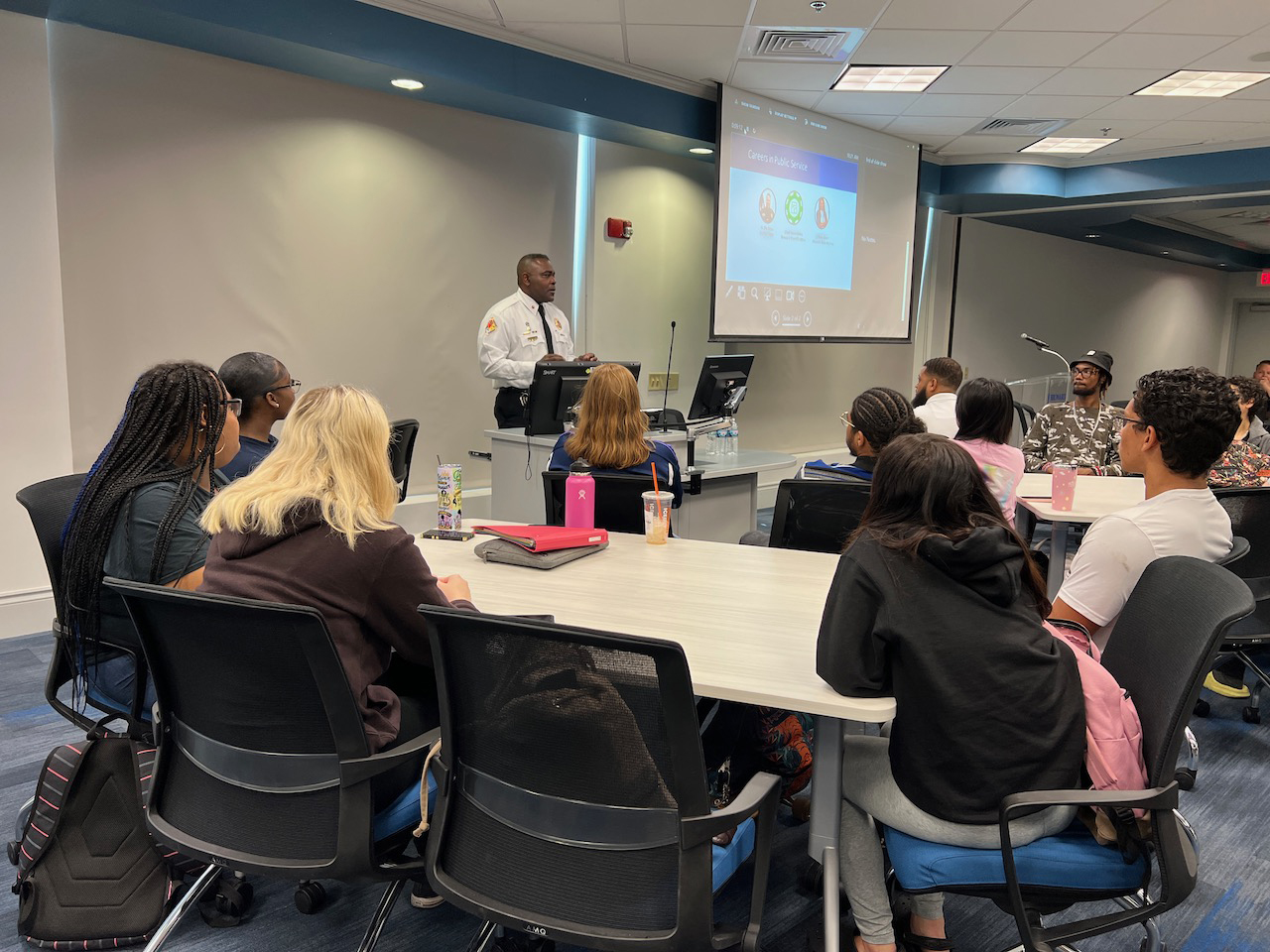 Broward College Institute for Leadership and Civic Engagement
Guest Editorials

| 27 October 2023 | 2 min read
By Dr. Stephanie Etter, vice provost, Academic Services and Learning Resources
The Broward College Institute of Leadership and Civic Engagement (ILCE), created through the Florida Civic Literacy Excellence Initiative and Career Pathways Grant, is already making its mark on our future Civic Leaders. Soon after its launch in May, the ILCE began offering programs, including a trip to Washington, D.C., for high school teachers, a traveling speaker series, and a successful student conference.
The Institute for Leadership and Civic Engagement hosted the "Engage. Lead. Serve." summer conference for high school students at the College's A. Hugh Adams Central Campus in Davie. Aimed at increasing student interest in public service careers and promoting the role of young adults in civic engagement, the one-day event provided a wealth of opportunities for students to engage and learn.
The conference featured esteemed speakers highlighting the critical roles of public service leaders in our community. Ruby Green, assistant state attorney for the Broward State Attorney's Office, shed light on the vital role of the State Attorney's Office in promoting justice and public safety. Lt. William Eric Bates from the Sunrise Police Department provided valuable perspectives on the challenges and rewards of serving as a law enforcement officer. Kayla Castillo, a licensed social worker, shared her experiences and insights into making a difference in the lives of individuals and communities. Heath Myers, a battalion chief firefighter, emphasized the public service role of firefighters in the community and serving as first responders. Civic activist Ebonie Raspberry inspired students with her dedication to advocacy and community empowerment. Michelle Levine, an educator, highlighted the transformative power of education in shaping a civic-minded society. Students were able to personally engage with each speaker through meaningful discussions and gain diverse perspectives on public service careers.
The one-day conference emphasized the importance of effective communication in government and public service. Students immersed themselves in the art communication and leadership in a workshop led by Janet Erlick of the Florida Childrens Theatre. Students had an opportunity to practice verbal and nonverbal communication skills as well as leadership skills and reflect on the various types of leadership and communication.
The event introduced students to possible paths to elected office and other public service careers. Dr. Richard Pulido, a current Broward College professor of Education who also serves as faculty senate president and was the former vice mayor for the Town of Miami Lakes led students through his career path in public service and challenged students to consider their current and future roles and obligations to serve the community.
The Civics Career Academies launching at ten Broward County Public High Schools in August 2023 give high school students a unique chance to learn about public service and make a difference. Public service leadership, effective communication, project management, and career research coursework will help students become civic-minded leaders in their chosen career fields.
For more information on the Broward College Institute of Leadership and Civic Engagement, the Civics Career Academies or the ten high schools participating this fall, please visit www.broward.edu/civicengagement.