"The Adventure Continues" for Faculty and Staff Honored at Annual Osprey Awards
Events

| 30 October 2023 less than a minute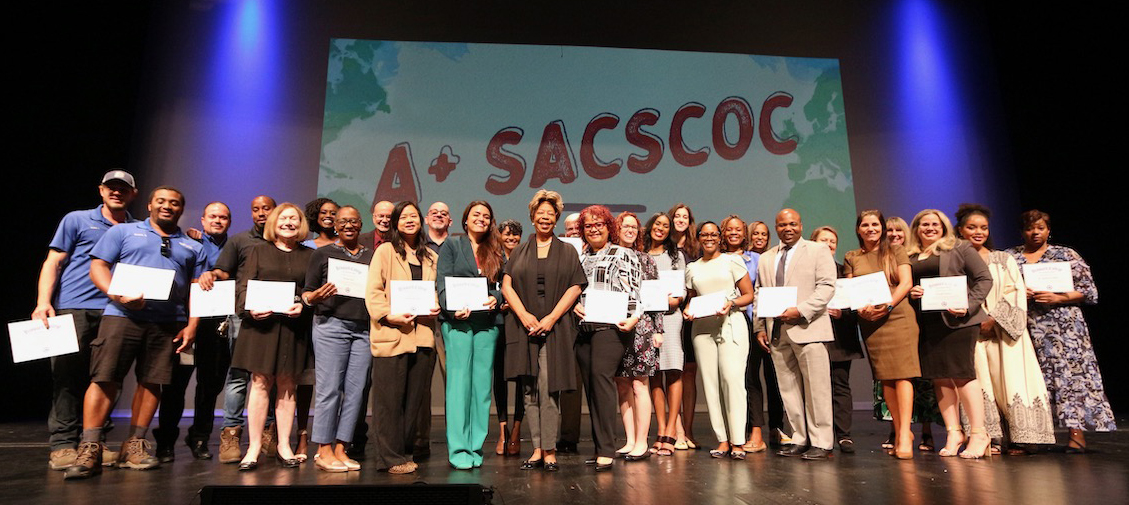 Broward College's annual Osprey Awards brought faculty and staff members across campuses to Bailey Hall on A. Hugh Adams Central Campus on Friday, October 20, to celebrate the achievements and milestones of their colleagues and peers.
Newly appointed President Dr. Barbara J. Bryan opened the event with a warm welcome before recognizing 35 unsung heroes who participated in the College's successful onsite visits from its accrediting body, The Southern Association of Colleges and Schools Commission on Colleges (SACSCOC), resulting in an A+ rating.
Under the theme "The Adventure Continues," hosts Jose Lopez (associate vice president, Academic Affairs) and Heather Rousseau (adjunct professor, Fine Arts) explored the myriad cultures embraced and represented by the College's faculty and staff while highlighting their accomplishments and milestones over the past year. More than 500 employees were recognized in categories including years of service, professors of the year, years of giving, compassionate leadership, and endowed teaching chair. A performance by the Broward College Dance Ensemble and a travel-themed raffled added an element of fun to the festivities.
The ceremony, produced by the College's Talent & Culture team led by Betsy Lopez, associate vice president, Talent Management and Workplace Learning, closed with words from Dean of Academic Affairs Amoy Reid, who presented the final award of the day to English Professor Trish Joyce for 50 years of service to Broward College.
"Together we create a work environment that unites, inspires, and sets us apart," said Dean Reid. "It's because of this care-for-colleague culture that our respect for and appreciation of one another shines as a beacon for our greater community."
Interested in working alongside Broward College's esteemed faculty and staff? Find out why Broward College is a great place to work.