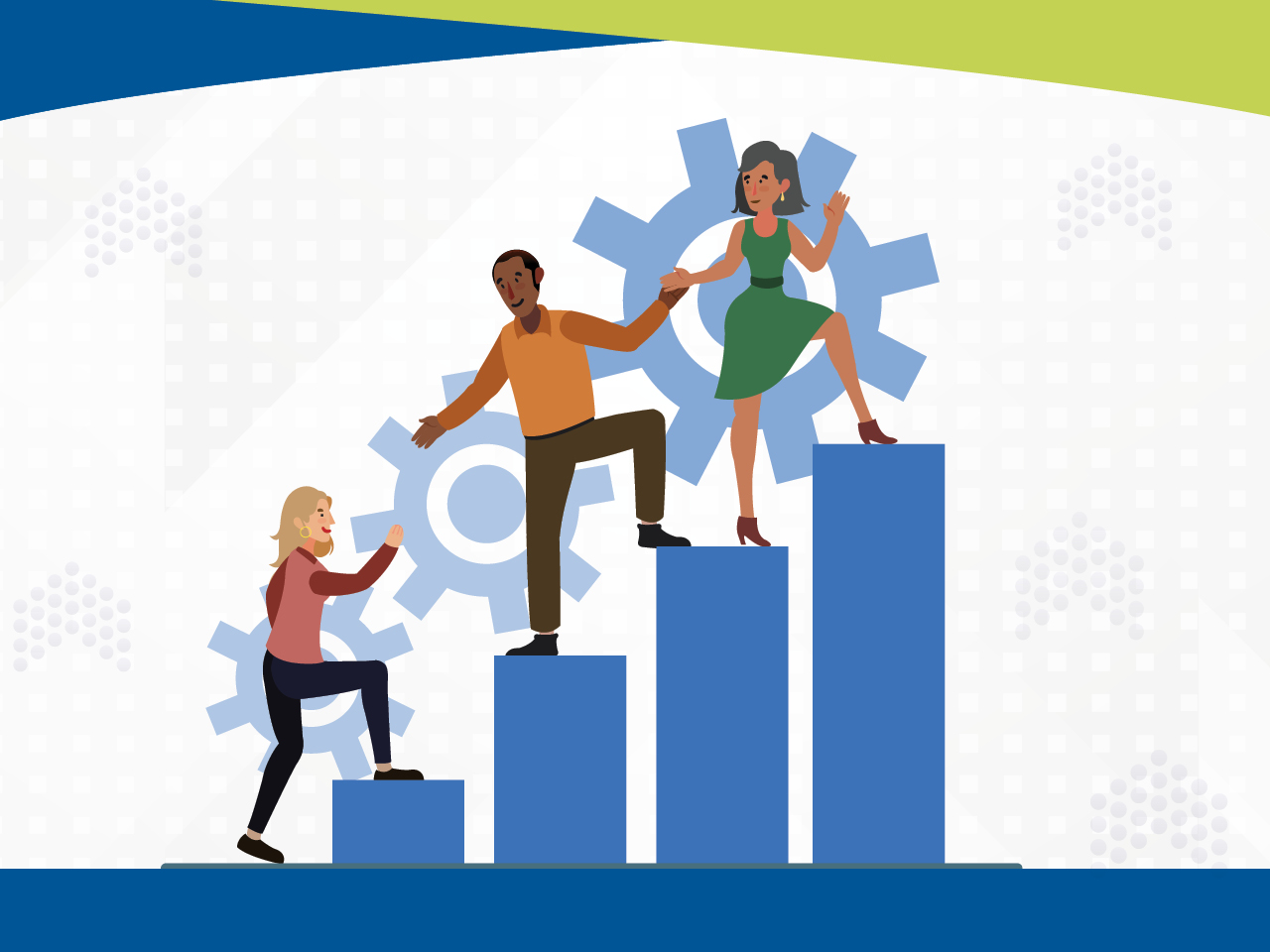 Becoming a Bridge to Employment: Introducing Broward College's Quality Enhancement Plan (QEP)
Events

News

| 05 October 2023 | 2 min read
In addition to being an incubator for tomorrow's workforce, Broward College is also an award-winning academic institution whose educational standards match some of the most prestigious community colleges in the country. To maintain those standards, the College is routinely assessed by the Southern Association of Colleges and Schools Commission on Colleges (SACSCOC), the body responsible for the accreditation of degree-granting higher education institutions in the Southern states, including more than 13,000 public and private educational institutions ranging from preschool to college level.
As part of the accreditation process, SACSCOC requires that each institution submit a Quality Enhancement Plan (QEP), a document developed by each institution that identifies goals and a five-year plan to assess its academic achievements. Broward College will receive an On-Site Visit from SACSCOC peer reviewers this October (October 9-12), and in preparation for that visit, we are proud to officially announce our Quality Enhancement Plan.
An Exceptional QEP
In years past, each Quality Enhancement Plan has carried its own theme. This year's QEP continues that tradition with an exciting theme all its own. Identified and selected by our faculty, staff, and students through a college-wide topic ranking and voting process,  and supported by our Board of Trustee's expressed priorities, the topic for our next QEP is "Connecting Students to Employment Opportunities."
Titled The Connection to Employment Opportunities (CEO) program, this transformative initiative aims to enhance the educational experience and career prospects of all our students. The program focuses on three student achievement outcomes by connecting students to employment opportunities and will span across students' academic journeys. The main purpose will be to identify, increase, and deliver student and employer engagements throughout the student experience to ensure meaningful career connections via the CEO activities. 
Making Connections
The CEO program will allow the College to build career connection paths for all students. By facilitating career connection, the College ensures that students can easily apply the skills they acquire in the classroom to their future jobs or continued education. ​The career connection path will be organized around four achievement levels: Career Exploration, Job Readiness, Work Based Learning, and Placement. Using these four levels as guideposts, students will engage in meaningful connections with employers and professionals across the College. Digital badges will be conferred for students at each achievement stage.  
As a college-wide initiative, the CEO program represents a collaborative effort between our dedicated faculty, staff, and administrators to equip Broward College students with the skills, knowledge, and resources necessary to excel not only academically, but also in the competitive job market. With a focus on practical skill development, real-world experience, professional networking, and hands-on placement opportunities, this year's QEP – the Connection to Employment Opportunities program – will build upon existing activities already taking place in the classroom to more directly align with meaningful employment for all students.
Broward College is currently in the first year of this five-year improvement plan. To learn more about the CEO program and how you can get involved, please visit the QEP Information webpage.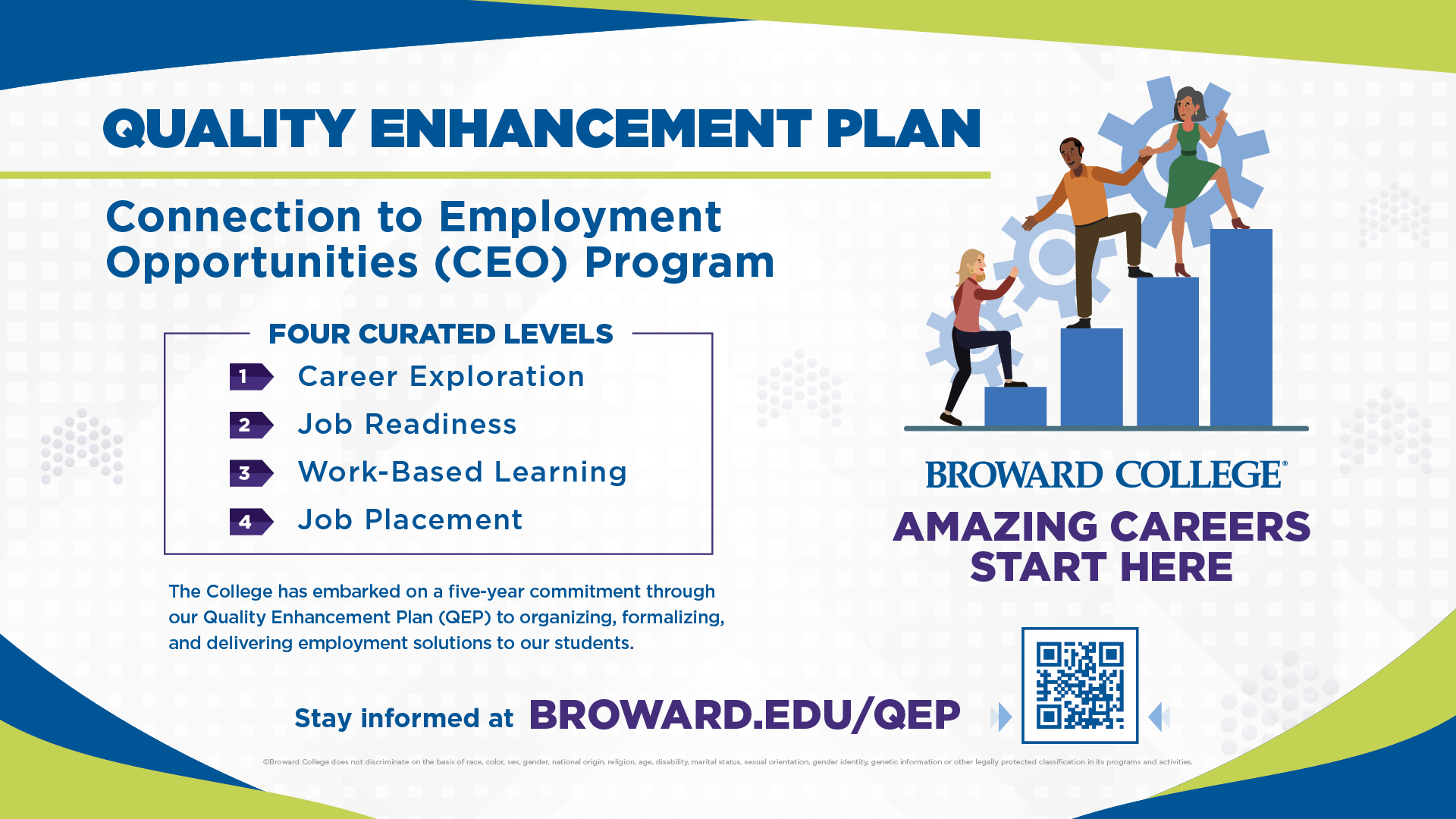 Admissions
Workforce Education
Job Opportunities