Broward College Student Juan Galindo Receives ALAS Student of the Year Award
Press Releases

| 25 October 2023 less than a minute
FORT LAUDERDALE, FLA. (October 25, 2023) – Broward College is proud to announce the distinguished achievement of one of its own students, Juan Galindo, who was recognized as Student of the Year in The Association of Latino Administrators and Superintendents (ALAS) Awards for 2023-24. The ALAS Awards honor the nation's top education leaders, policymakers, and administrators for their commitment to education advocacy and leadership.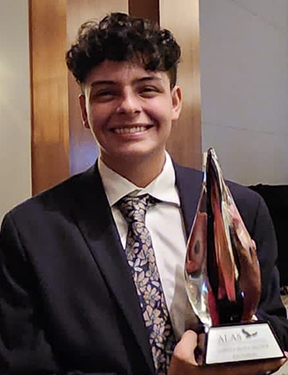 Juan Galindo, a first-generation student from Colombia and Broward College's Student Government Association (SGA) President, is dedicated to fostering an inclusive environment for all students and advocating for immigrants, Latinos, and non-English speakers in achieving higher education. His vision for the future includes the creation of a student board focused on connecting students to opportunities within higher education. He's a role model who, with unwavering dedication, now stands recognized by ALAS for his exceptional commitment to education advocacy and leadership.
Reflecting on this award, Juan shares, "Receiving the title of Student of the Year is a testament to the invaluable support, opportunities, and sense of community I have found here at Broward College. This may be my first award, but I know for a fact that it won't be the last. As a first-generation student, I was often told to dream smaller, but at Broward College, I have always felt that my dreams are well within reach."
Broward College takes immense pride in students like Juan, who tirelessly work to enhance the College's community and champion the cause of accessible education. Juan's personal journey is a poignant reminder of the transformative potential of education and the importance of embracing the diverse backgrounds and experiences of our remarkable students.
 -BC-
ABOUT BROWARD COLLEGE
Serving approximately 56,000 students annually, Broward College provides residents with certificate programs, two-year university-transfer degrees, two-year career degrees, and baccalaureate degrees in selected programs. The mission of the College is to provide high-quality educational programs and services that are affordable and accessible to a diverse community of learners. For more information, visit www.broward.edu.