El Lider del Mañana: Student Juan Galindo Receives Association of Latino Administrators and Superintendents Student of the Year Award
News

People

| 08 November 2023 | 2 min read
As a Hispanic Serving Institution, Broward College takes great pride in its mission to recruit, mentor, and prepare the next generation of Latino leaders and innovators, while promoting the advancement of Latino students and entrepreneurs in our community.  
It's a mission Broward College shares with the Association of Latino Administrators and Superintendents (ALAS), a forward-thinking organization committed to fostering educational equity for all students, especially for Latinos and those from historically marginalized backgrounds.
That is why the College is beyond thrilled to announce the distinguished achievement of one of its own students, Juan Galindo, who was recognized as Student of the Year in The Association of Latino Administrators and Superintendents Awards for 2023-24. The ALAS Awards recognize the nation's top Latino education leaders, policymakers, and administrators for their commitment to education advocacy and leadership. The honorees were celebrated during the 20th Anniversary ALAS National Education Summit Gala on October 6, 2023, in San Antonio, Texas.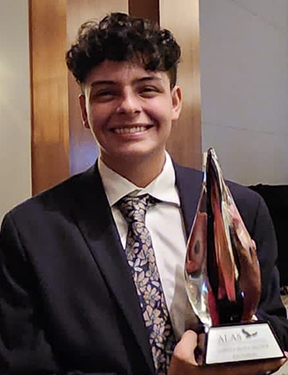 Juan Galindo, a first-generation student from Colombia and Broward College's Student Government Association (SGA) President, is dedicated to fostering an inclusive environment for all students and advocating for immigrants, Latinos, and non-English speakers in achieving higher education. Currently pursuing an Associate of Arts degree with a focus in International Affairs, Juan believes in a future where all Latino students can find opportunities to pursue higher education, and he has worked with administrators at Broward College toward the creation of a student board focused on connecting Spanish-speaking students with educational resources. As Broward College's Florida ALAS chapter intern, he is a role model who, with unwavering dedication, now stands recognized by ALAS for his exceptional commitment to education advocacy and leadership.
Reflecting on this award, Juan shares, "Receiving the title of Student of the Year is a testament to the invaluable support, opportunities, and sense of community I have found here at Broward College. This may be my first award, but I know for a fact that it won't be the last. As a first-generation student, I was often told to dream smaller, but at Broward College, I have always felt that my dreams are well within reach."
Broward College is honored to serve as the home institution students like Juan, who tirelessly work to enhance the College's community and champion the cause of accessible education. Juan's personal journey is a poignant reminder of the transformative potential of education and the importance of embracing the diverse backgrounds and experiences of our remarkable students.
Broward College faculty, students, and administrators have been recognized for the achievements by several prestigious publications and surveys. Want to learn more about the College's many awards and recognitions? Visit our Awards and Rankings page.