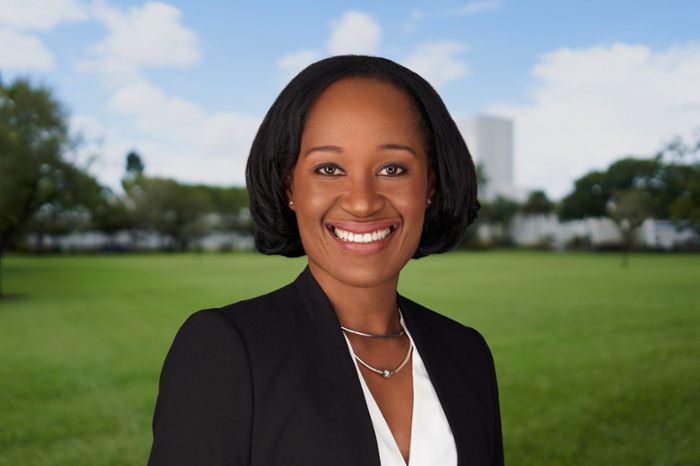 "It's All About the People" – Sophia Galvin Talks About Finding Her Passion in Human Resources
People

| 17 February 2022 | 3 min read
You can feel the passion in Sophia Galvin's voice when she talks about her career. With over twenty years of experience in the field of Human Resources, the College's Vice President of Talent and Culture has been following her heart since she began working in retail in her early twenties as a sales manager in Macy's.
She realized early in her career that she wanted to work with people; she just didn't know what that meant precisely. "I always felt very energized working around people," she says. "It wasn't a career by design per se, it was more of following my heart, and what I loved to do and that was working with people, motivating them, and just helping them."
While working, she decided to pursue a master's degree in Human Resources. Around the same time, she moved on to become an executive recruiter with Macy's corporate office, and that was how she started on the path to her current field of expertise. Her career excelled from one position to the next within Macy's, and later she moved on to other industries - health and now higher education.
The Broward College Culture
Even with all her professional experience, Broward College has been a dose of fresh air for VP Galvin. "I'm just so lucky. I work with a great group of people, my peers within the senior leadership team, my Talent and Culture team. They are all amazing and committed to people first," she explains as just one of several reasons she loves working at the College.
Despite her short time at the College, which will be three years this May, VP Galvin has revolutionized Talent and Culture. "Honestly, when I look on paper and see everything that has been done in my time here, it is kind of impressive, but I think it's not only about how you go about doing it but also that the people who must adapt your ideas are with it. We are fortunate to have leaders who truly care and understand what you are trying to do and how you are trying to improve the culture of our workplace," she says, crediting the strong support she has received from her peers and President Haile.
Additionally, she also explains that perhaps the most extraordinary thing about her job is the fact that at Broward College, most employees are long-term employees. "You want employees that engage. Having long-term employees, with an average of 10 years, helps employee engagement that mostly stems from a deep-seated love of the College, and even when their feedback is constructive, it means they want improvements for a place they care about."
"It's Who We Are"
VP Galvin explains that diversity and inclusion are at the very core of Broward College. She adds that it's important to take the time every February to look at the contributions, accomplishments, and sacrifices made by Black men and women to our nation, our state, communities, and the institution. "I think at Broward College we don't only celebrate and honor Black culture during Black History Month, which of course is important, but we do it all year round. It's part of our culture as an institution. Diversity, equity, and inclusion are embedded in who we are, and I think that's what makes Broward College so special."
On the employee side of things, efforts are made every day to foster an environment of inclusion. For example, after the tragic death of George Floyd, the Advisory Council for the Diversity of Equity and Inclusion (ACADEI) was created. "We wanted to make sure that we were holding ourselves accountable and stayed true to our ideas," she says.
Thriving and Shining
In addition to her role at Broward College, VP Galvin has served in various capacities on many organizations, including the board of directors for Goodwill Industries of South Florida, the Women's Fund of Miami-Dade, and vice-chair for the Florida State Minority Development Council.
The South Florida Business and Wealth magazine is honoring VP Galvin's efforts and outstanding performance, selecting her for the SFBW's 2022 Excellence in Human Resources Award. She is one of forty industry leaders recognized for their professional and community achievements and performance in their leadership roles. "It filled me with joy and excitement, and it's a dream come true," says VP Galvin. "I've always seen SFBW awards and thought how great it would be to be a part of it someday, so now it feels surreal."
Black History Month 2022 focuses on Black Health and Wellness and celebrates the contributions of Black scholars and medical practitioners. Learn how Broward College is celebrating here. 
Have you missed the previous highlights of Sophia Galvin's peers in the senior leadership team? Learn more about our 
Chief of Staff
, 
General Counsel
, 
College Provost
, and
Senior Vice President of Workforce Education and Innovation
.
Broward College Employees
Broward College Leadership
Service