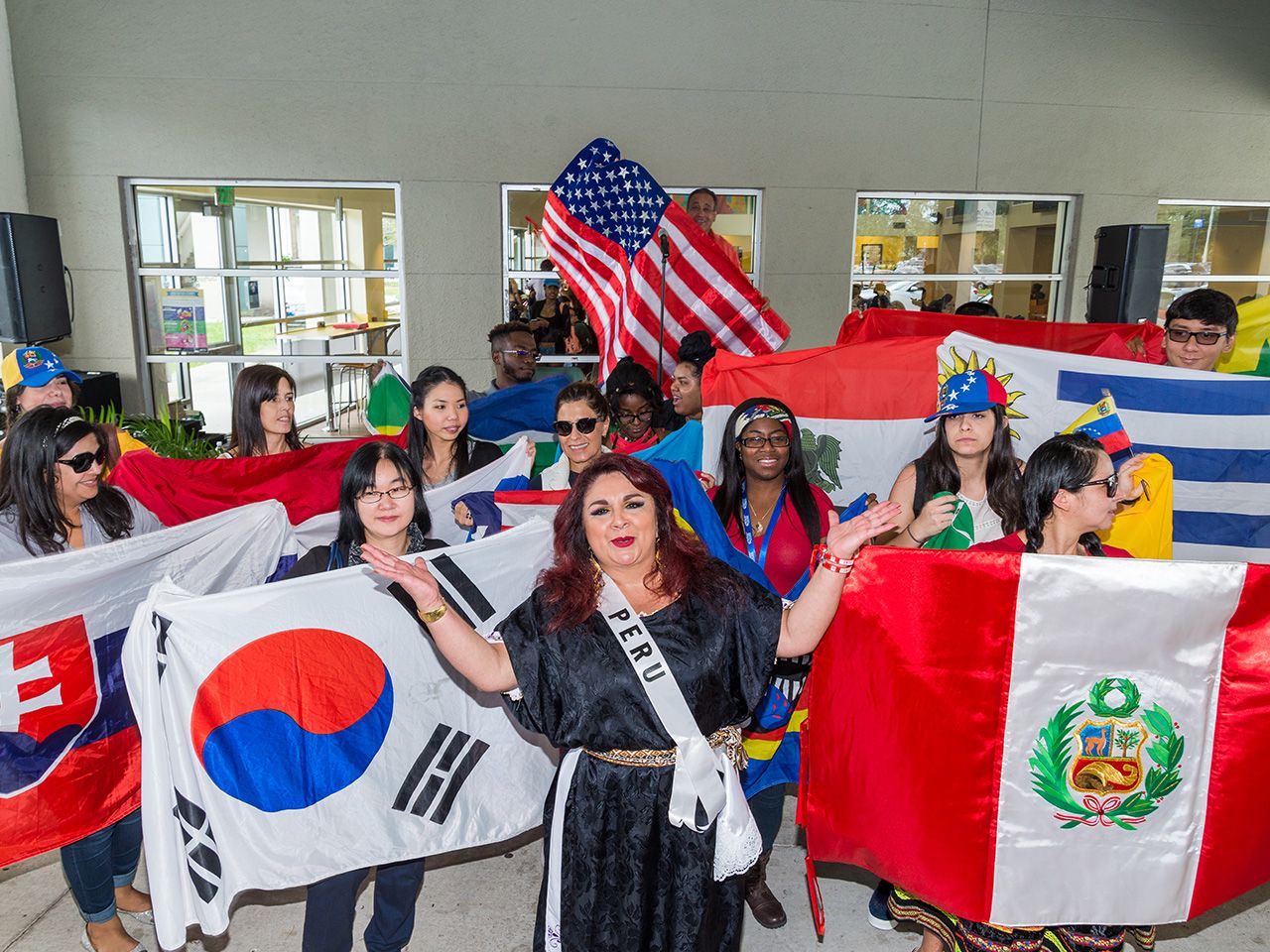 Nuestra Comunidad: Celebrate Hispanic Heritage Month at Broward College
News

Events

| 27 September 2023 | 3 min read
Broward County's Hispanic population has grown dramatically within the last five decades. In 1970, just 11 years after Broward College was founded, the Hispanic population in Broward was less than 15,000. Today, according to the most recent U.S. Census data, the Hispanic population has grown to approximately 600,000, representing more than 31 percent of Broward County's population.
Like the community it serves, Broward College is home to a growing number of students from Hispanic backgrounds. Latino students represent more than  37 percent of the Broward College student body, the largest ethnic group among the College's students. That's why Broward College is proud to observe Hispanic Heritage Month – which runs from September 15 to October 15 – with a variety of activities taking place throughout the month.  
Honoring their Contributions
Hispanic Heritage Month has its origins in President Lyndon B. Johnson's 1968 proclamation designating the week of September 15 as National Hispanic Heritage Week. The date has major significance in Hispanic and Latino history, acknowledging the anniversary of independence for several Latin American countries including Guatemala, Costa Rica, Honduras, and El Salvador. In 1988, based on the overwhelming support for Hispanic Heritage Month in the United States, President Ronald Reagan extended the celebration to last an entire month through October 15.
Since its inception, Hispanic Heritage Month has adopted themes for celebration. The 2023 theme for Hispanic Heritage Month is 'Prosperity, Power, and Progress', recognizing the significant achievements of the Hispanic community in the economic and political industries.
Celebrate at Broward College
Hispanic Heritage Month represents a time for everyone in the Broward College community to come together to honor the history, contributions, achievements, and impact Hispanic and Latino culture has had on our nation, in Florida and our Broward College community.
At Broward College, Student Life will host a series of events and gatherings, including a 2023 Hispanic Heritage Essay Contest featuring Amazon Wish List prizes of $300 for first place, $200 for second place, and $100 for third place. To participate, students can submit an essay of 500 to 600 words on the prompt "What does Hispanic Heritage mean to you?" to studentlife@broward.edu. The deadline for submission is Monday, October 9. For more information visit the Student Life page on the Broward College website.
Also in October, North Campus will host the Vamos Jugar games on Thursday, September 28, and a Dia Del Taco party on Wednesday, October 4, with fresh hot tacos served on a first-come, first-served basis. Both events will start at 12 p.m. On Tuesday, October 9, North Campus will host another Hispanic cuisine event called Sabor Latino at 4 p.m. featuring music, literature, and food representing diverse Hispanic heritages.
Central Campus will hold its own Sabor Latino festival on Tuesday, October 5, at 4 p.m. and a Café con Amigos event on Tuesday, October 10, at 11 a.m. where students can come together to enjoy coffee and pastries.
South Campus' Sabor Latino festival will be held on Thursday, October 12, at 4 p.m.
For a complete list of events, check out the Broward College Events Calendar here: calendar.broward.edu/
Proud of our Future
Broward College takes pride in being a Hispanic Serving Institution, a designation awarded by the U.S. Department of Education to institutions whose full-time undergraduate enrollment is at least 25 percent Hispanic students. Every winter and spring semester, the College witnesses the success stories of Hispanic students like Nicolas Rangel del Pinto, Shannon Escoriaza, and Daniel Murcia who walk the stage during graduation. Our college and community are better for their contributions.
As we look to the future, we are proud to help them and those who work at the College celebrate their heritage during National Hispanic Heritage Month (NHHM).
For more information on how Broward College is working to boost STEM Enrollment for Hispanic and first-time-in-college students, click here.
students
Community
Broward College Students
Student Support